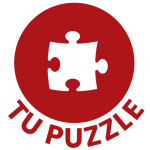 TuPuzzle
Alba de Tormes,

Salamanca,

Spain

No ratings found yet!
This is a rare puzzle that Heye manufactured in 1976. The title is Summertime by French cartoonist Jean-Jacques Loup. The puzzle

This is a very nice puzzle by Carrefour. The title is The Siesta, by Vincent van Gogh. The puzzle is
Educa manufactured this puzzle in 1992. The title is Manhattan. The puzzle is COMPLETE (1000 pieces). The pieces are in
Ravensburger manufactured this beautiful puzzle in 1984. The title is Wooden Landscape, by Abraham Govaerts. This puzzle is like NEW,
This is a colorful and very rare puzzle by Schmidt, belonging to their Ambassador series. The title is Village Wedding,
Nathan manufactured this rare puzzle in 1973. The title is The Very Rich Hours of the Duke of Berry, with

Ravensburger manufactured this puzzle in 1988. The title is Springtime in The Alps, with a photograph by Hans Schlapfer. The
Educa published this nice puzzle in 1989. The title is The God Anubis, Egypt. The puzzle is COMPLETE (800 pieces).
Heye manufactured this puzzle in 1990. The title is Knock-Out, by Roger Blachon. The puzzle is like NEW, with all
MB manufactured this puzzle in 1982, belonging to their BigBen collection. The title is Annecy, France. The puzzle is COMPLETE