When you buy a very rare puzzle on the site, perhaps a puzzle that you have been searching for years, you want to be sure that it arrives at its destination in the same condition it left Rare Puzzles. Some visitors or new customers encourage me to pack their puzzles carefully. After that, they have to decide whether they want shipping insurance or not.
We all have received very poorly packed shipments when buying on other online stores or on eBay. Are you familiar with these?
Puzzle boxes just wrapped with a couple of thin pages from a newspaper.
Wrapping paper that has been taped onto the original puzzle box and then it's impossible to remove.
Loose puzzles within too large cardboard boxes. The puzzle opens inside because they didn't even tape it closed and the pieces are loose all over the place.
However, if you have ever bought one of my puzzles, then you know you don't need to worry about packaging. Why? Because they will very likely be the best packages that you will receive. This is what a typical box will look like.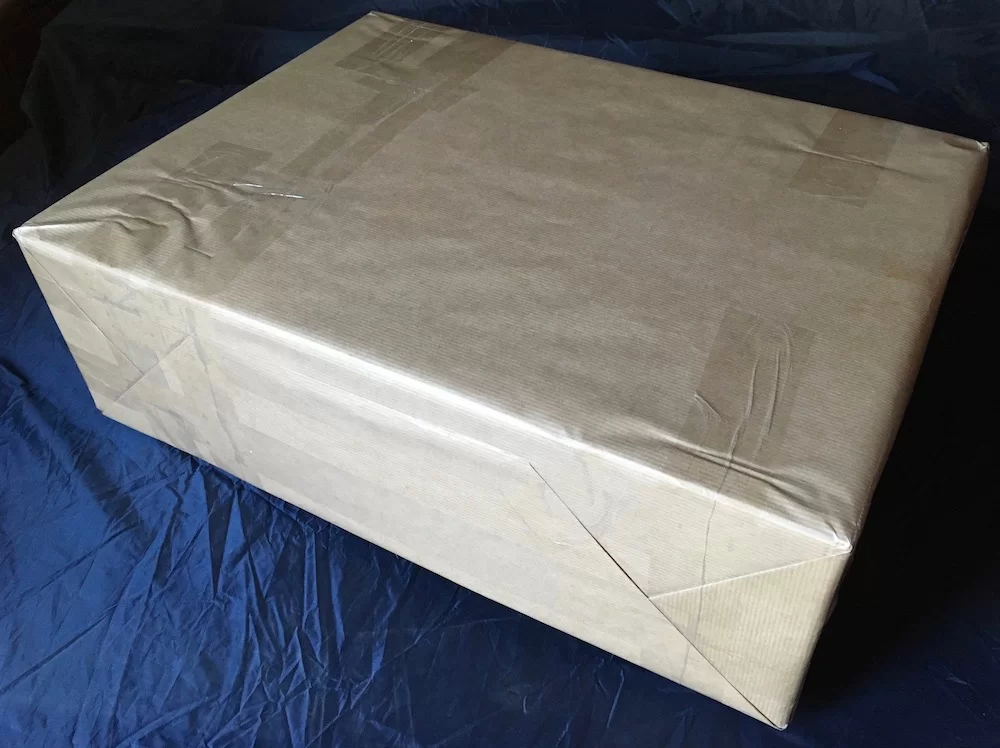 Two layers of palletizing plastic protect each puzzle, even puzzles that are brand new and also keep the factory seal. That is also the best protection while the puzzles remain in storage.
Each puzzle has an additional layer of bubble wrap.
The puzzles go in a heavy duty cardboard box. I adjust the box size in order to reduce volumetric weight and shipping costs. Then, I fill the empty spaces within the box with foam and other padding materials.
Finally, I wrap the cardboard box itself with sturdy kraft paper (unless the box is really large).
So, if you can be sure that your puzzles always travel in First Class, why buying shipping insurance? Because sometimes shit happens, and insurance can save the day.
Shipping Insurance Just in Case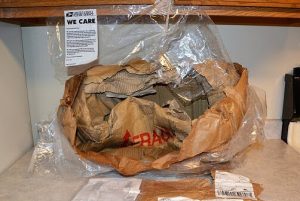 After several hundred packages shipped through different shipping companies to many countries, a package arrived at its destination completely ruined. It happened in May 2017. That was the first and only time that my puzzles have not arrived in the same condition that they left. USPS included a note that read We Care, although that note didn't help much with the disappointment of the buyer.
USPS didn't provide a reason why the package arrived in such condition. It seems that the box was in the water for a long time. On several occasions, customers have said that the package got wet during delivery because it was raining. However, due to the careful packaging, the contents were intact.
In this case, if water passed through the kraft paper, the cardboard box, the bubble wrap, the two layers of palletizing plastic, the original factory seal, the puzzle box, and finally got into the original pieces bag through the tiny breathing holes ruining all the pieces… it is because the package was submerged in water for a long time. Interestingly, the pieces of the used puzzles survived. Water couldn't get into the zip bags where I place them after verification.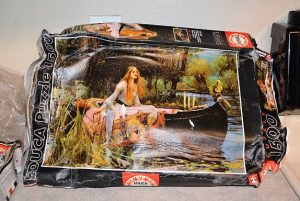 After that, we filed a claim. However, the process was not easy. The buyer had to go to the USPS office several times, fax a form, bring the damaged items… Then, Correos said they couldn't approve the claim because they had not received confirmation of damage from USPS. So we had to repeat the process again. More emails, more phone calls, more faxes and more visits to the USPS local office. But we finally recovered the declared value, and the shipping costs, just when the buyer was ready to give up.
Pros & Cons of Shipping Insurance
I always recommend getting shipping insurance, even when the odds of damage to a package are less than 1%. It provides ease of mind. In case of loss or damage, you will recover the declared value and the shipping costs. On the other hand, Correos doesn't have agreements with every country, and it is not possible to buy insurance when shipping to certain destinations, even if you are willing to pay for it.
However, even if you have insurance, a misplaced fax, an incompetent clerk on a mail office, a lack of communication between Correos in Spain and the Mail Service of the country receiving the package, might be enough to lose a rightful claim. That's what I learned from this experience.
Finally, insurance can trigger Customs inspections. Some customers don't risk to buy insurance when they know that Customs officers will check the shipment and perhaps charge it with sometimes ridiculously high import taxes.
So, it's your choice.