When I started this puzzle, I knew that there was a missing piece. It should have 999 pieces, but there were only 998 pieces. Some time ago, when this happened, I used to verify the puzzle a second time. My hope was that I had made a mistake, but the second verification gave always the same result. It was a shame, because this puzzle by Clementoni with a poster of the Moulin Rouge by Toulouse-Lautrec was very unusual. However, after buying more than 200 incomplete puzzles, it is not disappointing anymore. It's part of what we do at Rare Puzzles: being sure that we only list the complete ones.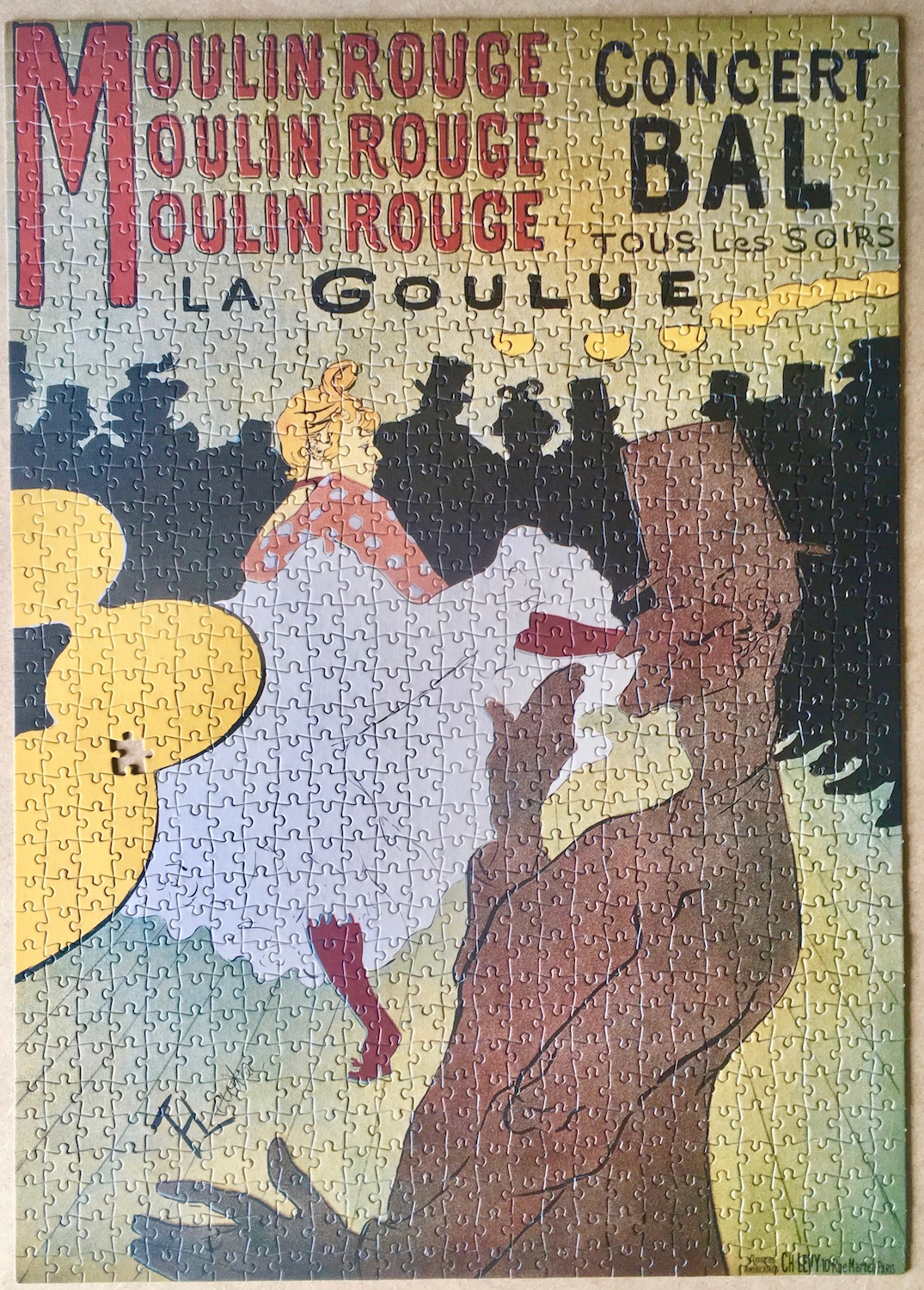 Initially, I was listing the incomplete puzzles in the online store at very low prices. However, when I decided to start the Missing Pieces replacement service, I thought it was better to keep them, put them together, and offer them for replacements. So, I have accepted the idea that I am now a puzzle enthusiast that will only assemble incomplete puzzles.
Moulin Rouge: La Goulue
That is the complete title of this poster by Toulouse-Lautrec. It was a color lithograph from 1891. Although they printed around 3000 copies, most of them were pasted as advertising posters and are now lost. However, surviving examples remain in the Indianapolis Museum of Art. The poster depicts the famous can-can dancer La Goulue and her flexible partner Valentin le Désossé (Boneless Valentin). The artist made it to advertise the popular French club, Moulin Rouge. Their audience appears as silhouettes in order to focus attention on the performers and evoke the Japanese art then in vogue.
The puzzle was very easy. I was fighting hard with the Ravensburger 5000 pieces version of The Night Watch, by Rembrandt. The puzzle was so challenging, that I had to take several breaks and complete smaller puzzles just to feel that I was making some progress. This Moulin Rouge was one of the smaller puzzles that helped me keep going with the large one. It served its purpose and it is now offered for replacements, in case anyone needs a piece from this puzzle.
1000, Clementoni, Moulin Rouge, Henri de Toulouse-Lautrec, 67.7 x 47.7 cm, Reference number 56000.