The Dinner at the Hotel Ritz in Paris, by Pierre-Georges Jeanniot, is not one of my favorite puzzles. That doesn't mean it is not a nice and entertaining puzzle, which it is. Besides, it is always a pleasure to complete a Ravensburger puzzle due to the good quality of their pieces. However, I don't think I would have chosen it in the first place if I had had a choice.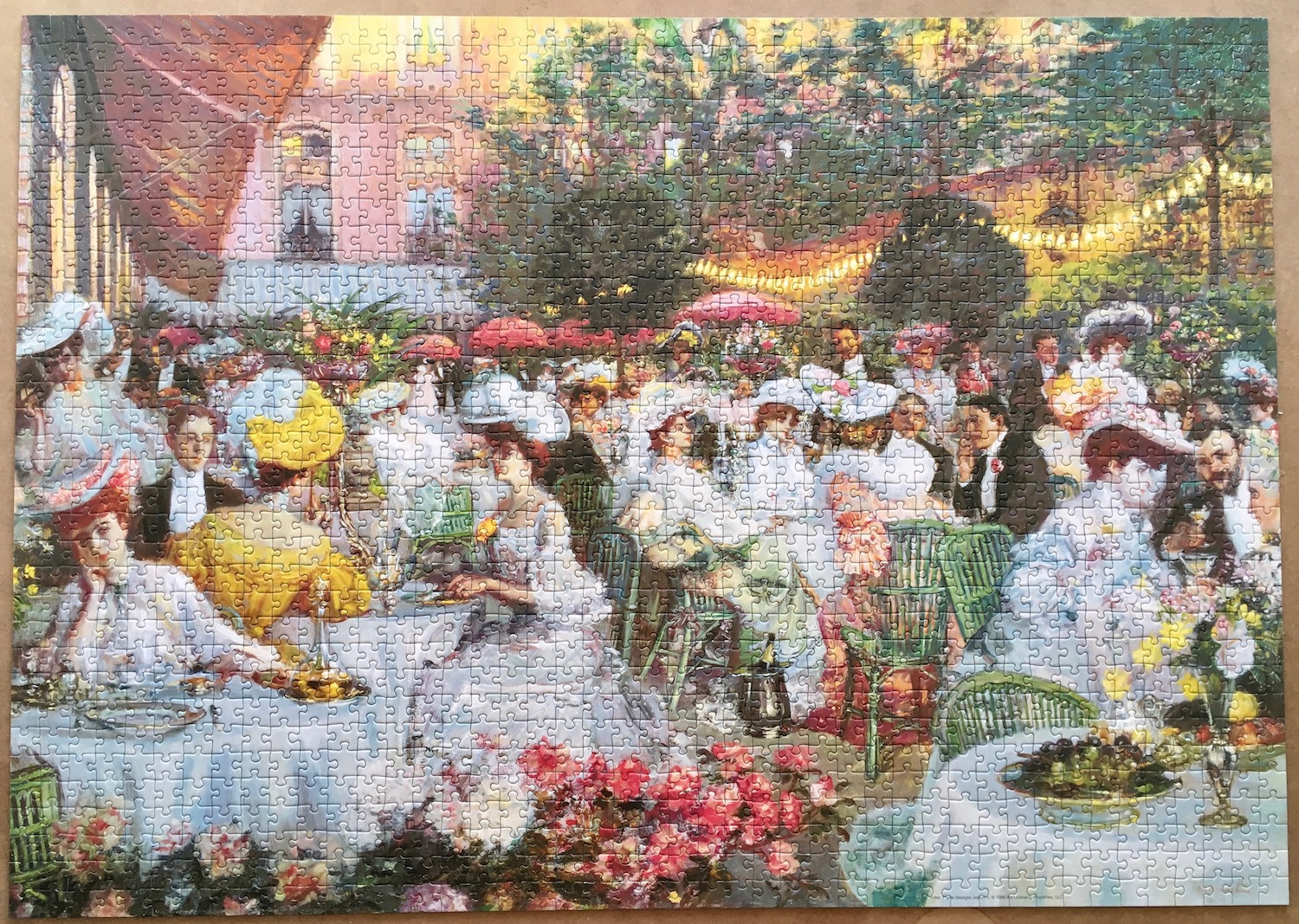 We are all human and we all make mistakes. I sold this puzzle to a customer in Poland, complete and with the pieces in excellent condition. However, when my customer finished the puzzle, he discovered that there was a foreign piece. That meant that the puzzle was actually incomplete. Ops! I think I can always detect foreign pieces, but I couldn't detect this one.
I found and bought another copy of the puzzle, hoping that it would be compatible with my customer's copy. That way, I could get a replacement piece for him. However, the copy was not compatible. Then, I assembled the puzzle and sent it to my customer in layers. Eventually he had the whole puzzle replaced and his work putting it together was not lost.
At home at the Hotel Ritz
Spanish philosopher José Ortega y Gasset wrote about the Hotel Ritz in one of his articles. He basically stated that no matter where you travelled around the world, if you stayed at a Ritz Hotel, you always had the feeling that you were staying at the same place, like at home. All these hotels have a tradition of refinement and elegance, particularly the one in Paris. For that reason, if you were at the Ritz, you were always at the same hotel.
Marcel Proust said something similar. In the 2nd volume of his masterpiece In Search of Lost Time, the protagonist and his grandmother travel to a similar luxury hotel in the fictional city of Balbec, where the aristocratic patrons felt "at home" the moment they climbed the marble-imitating stairs of the hotel.
Precisely the Hotel Ritz in Paris had a guest that felt at home: Coco Chanel, who lived in the hotel for 34 years, routinely using the staff entrance on Rue Cambon. She was intimately linked to the Ritz Paris and she decorated her Suite herself. Although she started to live in the hotel at the beginning of World War II, she was 21 years old when Pierre-Georges Jeanniot completed this painting, so she could have been one of the ladies in white having dinner.
You can stay at the Coco Chanel Suite in the Hotel Ritz in Paris for just 18000 euros per night.
1500, Ravensburger, The Dinner at the Hotel Ritz in Paris, Pierre-Georges Jeanniot, 84 x 60 cm, Reference number 16 258 1.