When I verified this old and beautiful Ravensburger puzzle on February 10, 2016, the final count was 2003 pieces. However, I was able to detect 3 clearly foreign pieces. For that reason, I was hoping that this Liberation Celebration, by French artist André Bauchant, would be complete. It is not easy to find a puzzle from 1976 in excellent condition, so I was optimistic when I could spot the foreign pieces.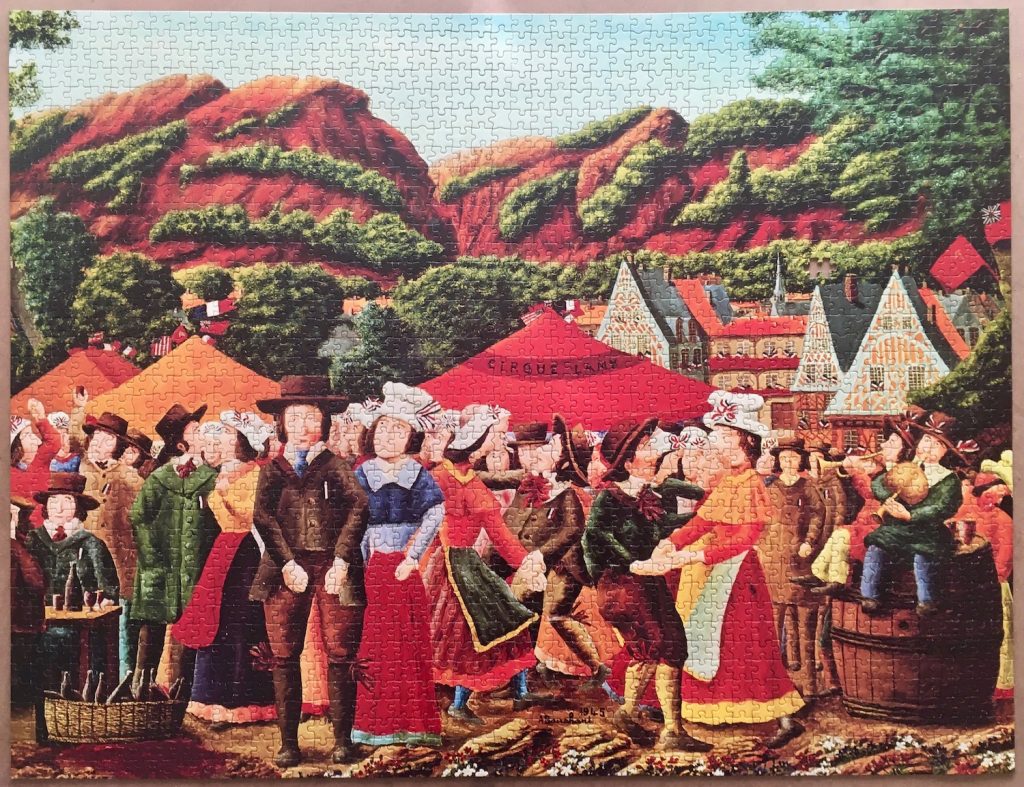 Foreign and extra pieces
However, when I detect a foreign piece in a puzzle during the verification process, I never list it for sale right away. Why? Because if there is a foreign piece that I have detected, it is possible that there is another one that I have not detected. After all, a foreign piece in a puzzle indicates a careless owner. For that reason, I simply put it aside with the intention of completing it some time in the future.
The same applies when I get extra pieces but I am unable to detect foreign ones. If a puzzle must have 1530 pieces, for example, and I get 1531, then the puzzle is not listed for sale. Only when I get the right number, I assume that the puzzle is complete, and in most cases it is. There have been, however, one or two cases when the puzzle seemed to be complete, but there was a foreign piece that I had not detected. When the buyer assembled the puzzle, he ended up with a missing piece and a piece that didn't belong. In both cases, I got another copy of the puzzle, put it together myself, and sent it to the buyer already assembled. Even Homer nods.
4 foreign pieces in Liberation Celebration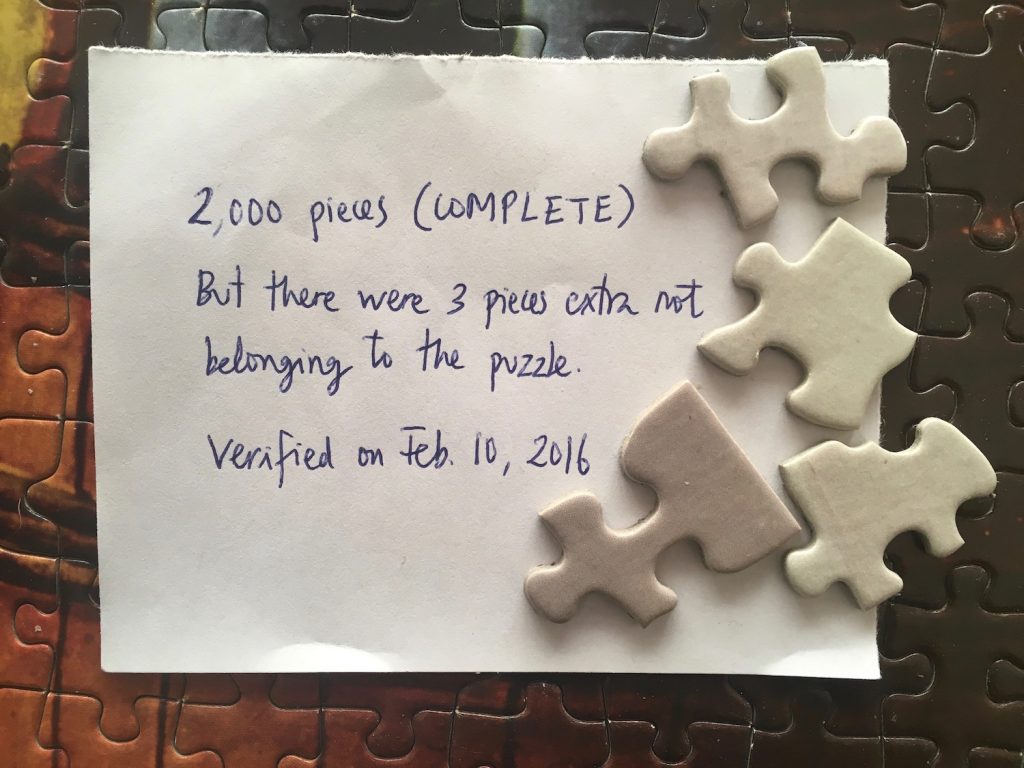 Unfortunately, soon after I started working on this puzzle, I found another foreign piece. I had not detected it during the initial verification. Ops! That meant that the puzzle was going to be incomplete, as it finally was. Now, I wonder how those pieces ended up in a different puzzle box. The size and form of those foreign pieces made me think that they belonged to some of the old puzzles by Waddington. They are very similar to the pieces of Diana Hunting, for example.
In any case, this Liberation Celebration was absolutely delightful. It is amazing how Ravensburger cardboard pieces remain in excellent condition after more than 40 years. The vibrant colors and the great amount of detail made me enjoy the experience as much as when I started with the hobby. It was refreshing.
It is a shame that the puzzle was finally incomplete, but it was a great excuse to put it together. The puzzle will now be available for replacements.
2000, Ravensburger, Liberation Celebration, André Bauchant, 98 x 75 cm, Reference number 625 5 816 4.