This Liberty Puzzle is one of the most interesting jigsaw puzzles that I have assembled, and the reason is not the fact that I like Alphonse Mucha very much. I liked this painting from the very first moment I saw it. However, when I found it, I was not sure whether I should buy it or not. The image in the box had golden tones that I somehow disliked. There was a label with the form of a puzzle piece that read ORO-OR-GOLD, so I figured it was some particular style of this brand. Eventually, in order to provide some diversity to my collection, I decided to buy it.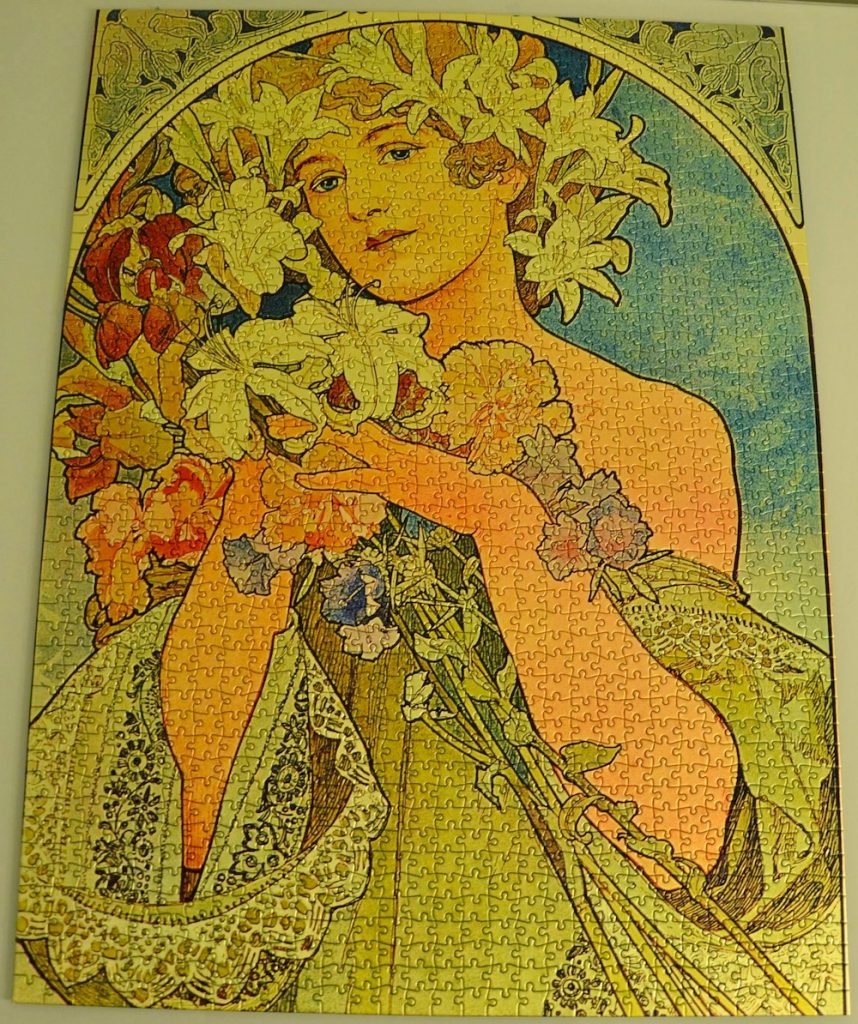 Doing some research about the puzzle, I learned that the manufacturer was International Team. They were an Italian company that disappeared in the 80's that produced some very nice and unusual puzzles. Among them, they published 12 puzzles for a Zodiac series. Several illustrators designed all the different pictures for the series, getting their inspiration from Mucha. Then, to close the series, there was a 13th puzzle, which is this one. The puzzle depicts the painting titled Flower, which Mucha completed in 1897.
Liberty Puzzle means Art Nouveau Puzzle in Italy
Interestingly, the title in the box is Liberty Puzzle. This title doesn't seem to be related to the picture, and the original title by Mucha doesn't even appear. However, we need to know that in Italy the Art Nouveau style was known as Liberty Style. That was due to the popularity of Art Nouveau designs from London's Liberty & Co Department Store. In other words, the title is something like Art Nouveau Puzzle.
I ended up loving the puzzle. It was not golden, as I was thinking it would be based on the box. Once assembled, the final result was some kind of soft and silky texture that made a wonderfully crafted jigsaw puzzle. Simply beautiful. The original painting is a little bigger, and Mucha's signature cannot be seen in the puzzle.
Although it is not exactly the same version of the puzzle, there is a 1000 pieces edition by D-Toys titled Fruit and Flower, where this painting appears, together with another one by Mucha.
1500, International Team, Liberty Puzzle, Alphonse Mucha, 58 x 78 cm, Reference number 9055.