Spanish brand Educa has a very nice collection of 1500 pieces jigsaw puzzles under the label of Museum Series. This version of Leda Atomica by the Spanish artist Salvador Dalí is just one of the many puzzles in the series. In order to get the attention of the prospective buyer, they call it A Collector's Item, and produce it in an elegant black box. Inside the box, you can find a golden tag with the title and the author. Later you can place that label on your puzzle and it will look like a painting in a museum.
I am not particularly fond of Dalí, so I don't recall the reason why I bought this puzzle. Perhaps I thought I should expand my collection to puzzles out of my comfort zone. Or perhaps the price was very good and I didn't want to miss the opportunity. The colors of the box had faded out slightly due to the sunlight. When that happens, or there is any other damage to the box, very often store owners lower the price.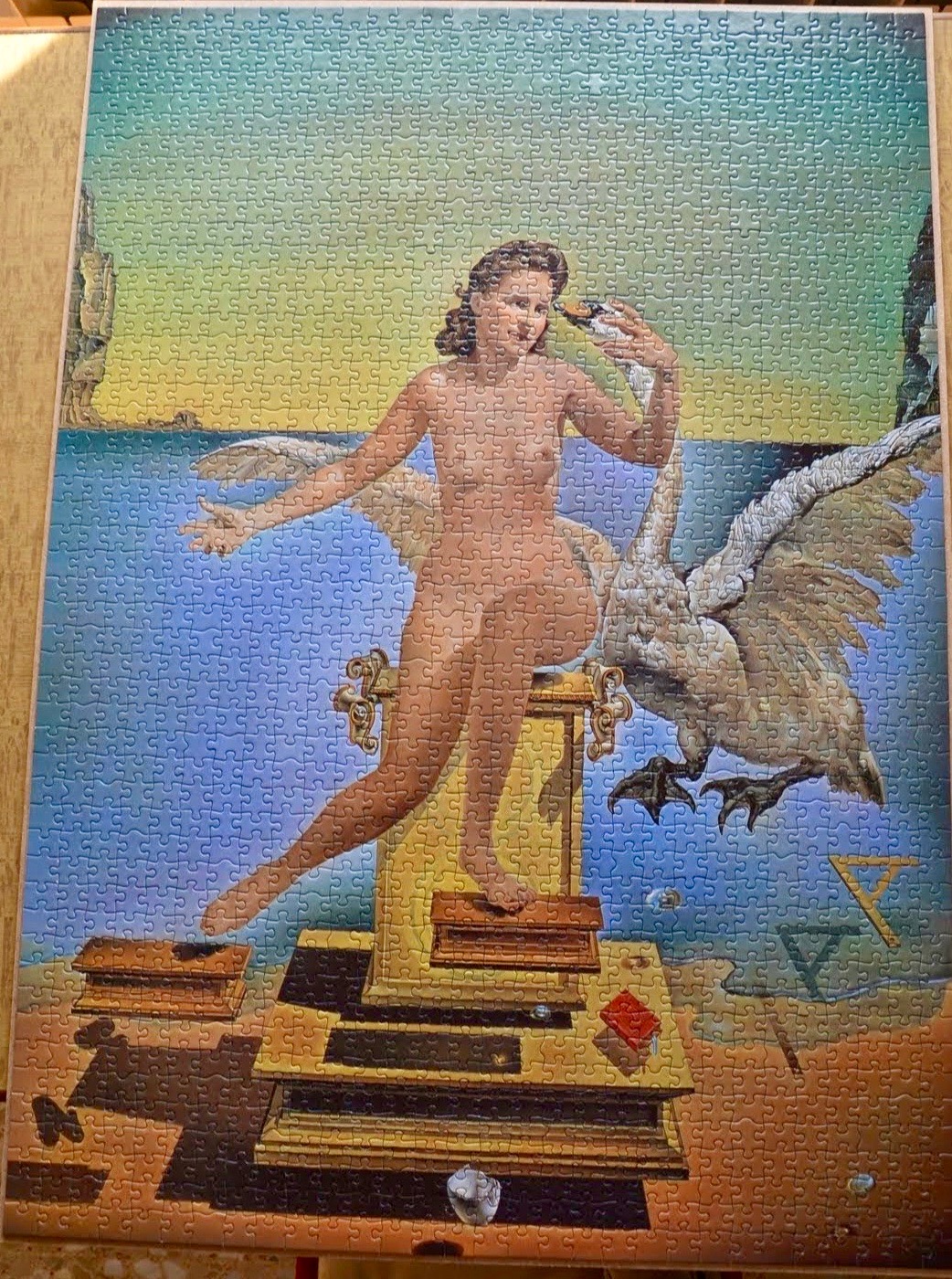 Leda and the Swan
The title of this painting is Leda Atomica. It is Dalí's version of the mythological topic of Leda and the Swan. Such topic has been revisited by many artists, including painters, sculptors, and poets. In the story, the god Zeus, in the form of a swan, seduces the mortal woman Leda.
Dalí completed Leda Atomica in 1949 and you can admire the original painting at the Dalí Theatre and Museum, in Figueras, Spain, Dalí's birthplace. In his painting, Leda is a portrait of Gala, Dalí's wife, who was his muse and appeared in many of his works.
When I assembled the puzzle, I never considered selling it. However, I later listed it in our online store. Although Educa published this puzzle in 1996, they produced another 1000 pieces version in 2003. In fact, Educa has produced many puzzles with paintings by Salvador Dalí
1500, Educa, Leda Atomica, Salvador Dalí, 85 x 60 cm, Reference number 7.713.